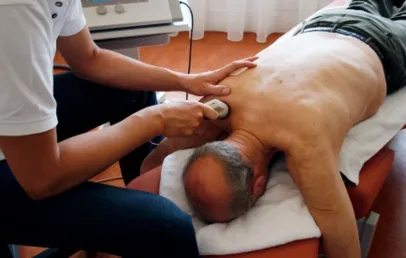 How Therapeutic Ultrasound Benefits Patients
Chiropractors can utilize a wide range of tools and techniques to treat your injuries. After evaluating your specific injury, they may decide that using therapeutic ultrasound is the best course of action. It's a decision that may catch you off guard at first, but it's a more than valid form of treatment.
Therapeutic ultrasound can be used to treat injuries in one of two ways.
First off, your chiropractor may opt to utilize the heat generated by the ultrasound device to facilitate healing.
Application of the ultrasound device causes internal heating. The heat generated by the device is targeted so it affects the injured part of your body directly.
Increasing the temperature near the injured part of your body promotes healing. The body takes notice of the temperature spike and proceeds to act with greater urgency. Your injury should heal faster thanks to the therapeutic ultrasound.
Your chiropractor can also use the ultrasound device to perform a process known as cavitation. During cavitation, your chiropractor will use the ultrasound device to cause expansions and contractions along the damaged tissues inside your body.
Cavitation can reduce swelling and inflammation. The injured part of your body can heal faster after the swelling and inflammation are reduced. On top of that, cavitation is useful for restoring lost range of motion because it can break down scar tissue.
Therapeutic ultrasound can be used to treat numerous conditions. Seek it out if you are suffering from bursitis, sprains, strains, or tendonitis.
Reach out to Dr. Henrichs of the Stout-Henrichs Chiropractic Clinic if you want to try therapeutic ultrasound in Dodge City, KS.
What Happens during a Therapeutic Ultrasound Session?
If you've never tried therapeutic ultrasound before, it's only natural for you to be wary of the procedure. That said, there really is nothing for you to worry about.
You don't even have to make any special preparations ahead of your appointment.
Once the treatment begins, your chiropractor will apply a small amount of gel to the injured part of your body. They will then proceed to move the ultrasound device in a circular motion. During this time, you may feel the warmth from the ultrasound device and some pulsing sensations. Still, the procedure should be completely painless.
Your chiropractor will continue moving the ultrasound device for about 10 minutes or so. Continue undergoing ultrasound-based therapy if you want to treat your lingering injuries and break free from your chronic pain.
Dial 620-227-7082 to book a therapeutic ultrasound session with Dr. Henrichs of the Stout-Henrichs Chiropractic Clinic in Dodge City, KS.